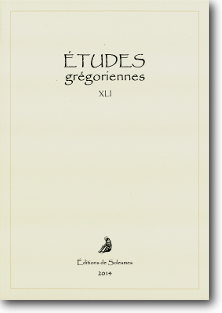 | | |
| --- | --- |
| Subtotal | 28,44 € |
| TVA 5.5% | 1,56 € |
| Prix | 30,00 € |
Études grégoriennes XLI (2014)
TABLE DES MATIÈRES :
Eduardo HENRIK AUBERT, University of Cambridge
Deux feuillets inédits d'un antiphonaire de Cluny du 11e siècle : les fragments Solesmes A.3/A.4 et A.4 et A.5/A.6.
Laura ALBIERO, laboratoire de Médiévistique Occidentale de Paris
La tachygraphie musicale dans les sources messines-comâques : le scandicus subbipunctis resupinus.
Thomas OP DE COUL, Utrecht
How were new saint's feasts added to liturgical manuscripts? Uniformity in three dated Carthusian graduals from the Low Countries.
Innocent SMITH, O. P., Washington
Le chant dominicain médiéval et moderne au 19e siècle.
Jean-Pierre NOISEUX, Montréal
Dom Joseph Pothier et Hildegarde de Bingen.
Dom Paul BLANCHON-LASSERVE (†)
Troisième voyage paléographique (Allemagne-Autriche, 1914).