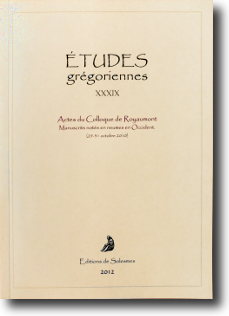 | | |
| --- | --- |
| Subtotal | 27,49 € |
| TVA 5.5% | 1,51 € |
| Prix | 29,00 € |
Études grégoriennes XXXIX (2012)
«Manuscrits notés en neumes en Occident»
Actes du colloque de Royaumont
(29-31 octobre 2010)
TABLE DES MATIÈRES
Catherine Massip et Marie-Noël Colette, E.P.H.E.
Introduction, Le colloque de Royaumont, conclusion du programme MANNO
Marie-Noël Colette, E.P.H.E., Paris
Les fragments et additions marginales notés dans les anciens manuscrits de Corbie conservés à la Bibliothèque nationale de France.
Susan Rankin, Université de Cambridge
Typologies of ninth-century music notations
Wulf Arlt
A propos de la notation "paléofranque". Observations spécifiques et générales extraites de mon carnet d'atelier.
Christelle Cazaux-Kowalski, Université de Poitiers
Peut-on encore parler de « notation de Novalèse » ?
Thomas Kelly, Université de Harvard
Fragments of Musical Manuscripts in the Beneventan Zone
Véronique Dubois, E.P.H.E., Paris
La notation française du tropaire-prosaire de Saint-Martial (Paris, BnF lat. 1240, Xe siècle).
Daniel Saulnier, C.E.S.R.Tours et Eduardo H. Aubert, Université de Cambridge
Les graphies neumatiques modifiées avec angle droit dans Paris BnF lat. 1087.
Manuel Pedro Ferreira, Université de Lisbonne
Les neumes spéciaux du Graduel de Cluny, BnF, latin 1087. Essai d'interprétation.
Hélène Cao, E.P.H.E., Paris
Les notations de Nevers, la question des liquescences.
Océane Boudeau, E.P.H.E., Paris
La notation du manuscrit 46 de la médiathèque de Sens comparée à celle d'autres manuscrits de Sens et du manuscrit de Beauvais (B.L. Egerton 2615).
Christian Meyer
La notation carrée du plain-chant. Le témoignage d'un traité inédit : Napoli, Biblioteca nazionale, Ms. VIII D 12, f. 24r-32r
*********
Communication donnée lors du Colloque à Solesmes-Sablé sur le chant grégorien, en septembre 2010 :
Nicolas Dufetel
L'atelier grégorien de Franz Liszt, ou la voie du « Psallite sapienter ».