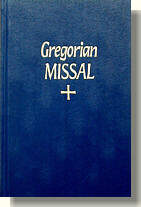 | | |
| --- | --- |
| Subtotal | 28,44 € |
| TVA 5.5% | 1,56 € |
| Prix | 30,00 € |
Gregorian missal - new translation
Includes the newly approved English translation of the Roman Missal
It contains the Latin and English texts for the complete celebration of Mass, with masses for all Sundays and solemnities and for those feasts which take precedence over a Sunday. In order to limit the size of this volume, it was necessary to omit the text of the readings. Only the references have been given.All chant melodies - both for the Ordinary of Mass and for the Propers - are presented in the traditional square Gregorian notation with the added rhythmical signs.
Alongside the Latin prayers, in a second column, have been placed the corresponding texts of the official liturgical translation for English speaking countries. These were created for the needs of the vernacular liturgy and they are printed here in conformity with official directives, even though they do not always constitute a literal, word for word rendering of the Latin. The notated Gregorian chant pieces proper to each Mass, are generally followed by our own translation, printed across the full width of the page. Its only function is to facilitate comprehension of the sung Latin text, and it is in no way intended for use in the Liturgy.
The Gregorian Missal is intended for the faithful who participate in Mass sung in Gregorian chant. It is useful both for choirs and for the people in general, since the proper chants of the Gregorian repertory, as presented in the post-Vatican II edition of the Roman Gradual approved by Pope Paul VI, do not, as a rule, correspond to the song texts proposed in the present-day Roman Missal.