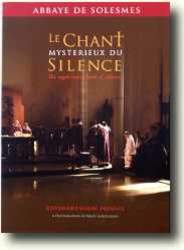 | | |
| --- | --- |
| Subtotal | 14,17 € |
| TVA 20% | 2,83 € |
| Price | 17,00 € |
Le Chant mystérieux du silence
… Des moines bénédictins accomplissant leur travail dans la simplicité et avec joie, nous invitent pour la première fois à partager leur vie quotidiene…
Citadelle de la louange et de la prière, l'abbaye Saint-Pierre de Solesmes, toute de granit impressionne, depuis la Sarthe qu'elle domine. En entrant dans la nef de l'église, on est saisi par le profond recueillement du lieu. Est-ce dû aux pierres et aux voutes qui gardent en mémoire l'héritage séculaire des mélodies grégoriennes.
C'est là que depuis un millénaire, une communauté bénédictine vit paisiblement les vœux monastiques selon la Règle de saint Benoît. Encore aujourd'hui, le temps s'y écoule, rythmé par la prière, le travail et l'étude. Une telle vocation contemplative pour laquelle les bâtiments ont été conçus, requiert avant tout un climat de silence et de paix.
C'est pourquoi la Règle des moises impose une clôture qui n'est franchie que dans des cas exceptionnels…
Documentaire de 52 minutes
(+ 34 minutes de bonus)
Écriture et réalisation : Régis Ghezelbash
* * * * * * * * * * * * * * * * * * * * * * * * *
… Benedictine monks going about their work, in simplicity and joy, for the first time invinting us to share their daily lives…
On entering the nave of the church, one is seized by the profound silence which envelopes visitors, and a sense of stillenss seems to emanate from the walls of stone, as if they reverberated with remembered gregorian melodies of centuries past.
For over a millenim, a Benedictine community has peacefully lived here, faithful to the monastic vows according to the Rule of Saint Benedict. Even today, time continues to be employed in prayer, work and study. The comtemplative vocation, for which these buildings were meant, requires an environment of peace and silent above all else..
And so, the Rule of monks imposes an enclosure into which one only enter on special occasions….
Documentary of 52 minutes
(+ 34 minutes bonus)
Script & direction : Régis Ghezelbash