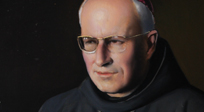 Born in 1911, was procurator in Curia, i.e. chargé d'affaires of the Solesmes Congregation in Rome, when he was elected abbot on 5 July 1959. In 1961, he made a foundation in Keur Moussa, Senegal. The monks of Keur Moussa were soon joined by nuns from Sainte-Cécile, who founded the neighbouring monastery of Keur-Guilaye.
Dom Prou attended the Second Vatican Council in his capacity as Abbot President of the Solesmes Congregation. He was especially involved in drawing up the conciliar texts on the liturgy. His years spent in Rome and the remarkable ecclesial experience of the Second Vatican Council made a deep impression on Dom Prou, enabling him to steer our community and the entire Solesmes Congregation safely through the Aggiornamento period following the council. In accordance with the council's stipulations, this involved adapting monastic life to today's world while remaining completely faithful to St Benedict's founding inspiration.
Dom Prou resigned in 1992 and died at Solesmes on 14 November 1999. His motto was Coram ipso (In His Presence), which expressed his deep desire to see God.