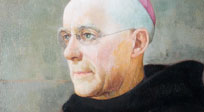 Born in 1878, was elected abbot in 1921. Judging that the political situation in France was ripe for the monks to return, he brought the community back to Solesmes the following year. Nevertheless, a group of monks was left behind at Quarr to continue monastic life there. Dom Cozien was keen to follow his predecessors' approach to monastic life. His motto was In vinculo pacis, (In the Bond of Peace).
The Solesmes community experienced a large influx of vocations after returning to the banks of the Sarthe. Dom Bellot – the community's architect – first undertook the necessary maintenance work after their long absence and then built the library and new cloister. Everything was ready for the Congregation's centenary, which was solemnly celebrated in 1937. Shortly afterwards, the Second World War meant there was no one left in the monastery apart from a few elderly monks and those exempt from military service. In 1940, three monks were killed at the front and several dozen were taken prisoner. Dom Cozien bore these wartime trials and the Occupation with impressive calm. When peace returned, the prisoners came back home and vigorous conventual life resumed.
Faced with swelling ranks of young monks, a decision was made in 1948 to make a new foundation in the buildings of the former abbey of Fontgombault, by the River Creuse.
Towards the end of Dom Cozien's abbacy, a new east wing was built at Solesmes, at right angles to the 19th-century building.
Dom Cozien died on 18 May 1960, less than a year after resigning as abbot.