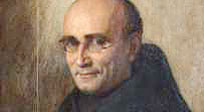 Born in 1817, was prior, i.e. second-in-command to the abbot, when Dom Guéranger died; he was elected to succeed him on 11 February 1875. This good and prudent man's abbacy got off to an auspicious start at Solesmes; the monastery's sole concern was to ensure its founder's heritage bore fruit. But from 1879 onwards, the French government embarked on a resolutely anti-clerical policy. On 6 November 1880, the monks of Solesmes were expelled from their monastery by the police.
During fifteen or so years of alternating soft and hard stances towards the monks from the authorities, the Benedictines of Solesmes lived locked out of their monastery and celebrated their offices in the parish church or at Sainte-Cécile. They were scattered across twenty or so houses placed at their disposal in the village and surrounding area. God's abundant grace helped maintain their fervour despite such unusual living conditions. This trial strengthened their unity of heart, attracted vocations and even encouraged foundations: in 1889, the monastery of Saint-Paul was established in Wisques, near Sainte-Cécile's foundation of Notre-Dame de Wisques. In 1890, a group of monks took over the monastery of Saint-Maur in Anjou.
Dom Couturier died on 29 October 1890, in the house where he had taken refuge in Solesmes village. This situation was the exact opposite of the abbatial motto he had chosen: Consortia tecta (Shared beneath One Roof)! This formula is taken from Virgil's Georgics, where it evokes bees gathered together in a single hive. It proves that Abbot Couturier held nothing dearer than the unity of his community under the same roof. His coat of arms depicted a beehive.