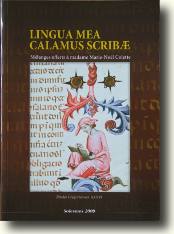 | | |
| --- | --- |
| Subtotal | 27,49 € |
| TVA 5.5% | 1,51 € |
| Prix | 29,00 € |
Études grégoriennes XXXVI (2009)
Lingua mea calamus scribæ
Mélanges offerts à Marie-Noël Colette
Directeur d'Études émérite à l'école pratique des hautes études, Marie-Noël Colette contribue depuis plusieurs décennies à renouveler l'étude des répertoires de chant du Moyen âge occidental, leur reconstitution et leur interprétation. En hommage à leur collègue et ancien professeur, musicologues, chanteurs, liturgistes, historiens de l'art, philologues réunissent dans ce volume les fruits de leurs récents travaux sur la musique et la liturgie médiévale.
Différents thèmes de recherche chers à Marie-Noël Colette sont abordés dans ce livre, avec pour fil conducteur la question complexe de la relation entre le chant et l'écriture, entre le son et la notation musicale : Lingua mea calamus scribae...
TABLES DES CONTRIBUTIONS
Nino ALBAROSA
Un elemento formulistico rivelatore
Charles M. ATKINSON
Frutolf (?) the Magician
Giacomo BAROFFIO
Un inedito processionale polironiano. Mantova, Biblioteca Comunale Teresiana, 270
Christelle CAZAUX-KOWALSK
La table du graduel palimpseste de Turin : quelques réflexions sur la facture et la destination d'un manuscrit atypique (F-Pn grec 2631)
Gisèle CLÉMENT-DUMAS et Isabelle FABRE
Saint Étienne et l'amant courtois : jeux sur la figure du martyr dans le motet S'amours/Au renouveler/Ecce de Pierre de la Croix
Martine CLOUZOT
Musique et performance d'un miroir princier : jongleurs et ménestrels dans le roman d'Alexandre d'Oxford
Joseph DYER
Advent and the Antiphonale Missarum
Barbara HAGGH et Michel HUGLO
Les notations musicales en usage dans l'église d'Autun
Roman HANKELN
Zur musikstilistischen Einordnung mittelalterlicher Heiligenoffizien
David HILEY
Dulce lignum maior et minor
Gunila IVERSEN
Maiestas Domini dans le chant du Gloria. Prosules du Gloria en Aquitaine
Thomas F. KELLY
Fragments of a notated missal in Bari-type Beneventan script
Jean-Loup LEMAITRE
L'ordinaire de l'abbaye de Pébrac (1301)
Katarina LIVLJANIC
Lamentations de Jérémie glagolitiques sur l'île de Hvar en Croatie : peut on traduire le chant ?
Christian MEYER
L'hymnaire de Remiremont. Quelques observations à propos d'Epinal, Ms. 223, f. 1r-79v.
Eric PALAZZO
L'avenir des recherches sur les livres liturgiques du Moyen Âge occidental
Niels Holger PETERSEN
The Concept of Liturgical Drama : Charles-Edmond de Coussemaker and Charles Magnin
Alejandro Enrique PLANCHART
The Prose South of Rome
Carmen RODRIGUEZ-SUSO
Conflictos modales en el Renacimiento
Daniel SAULNIER
Quand Noël tombait un dimanche